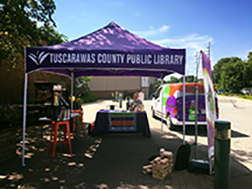 The Tuscarawas County Public Library System is bringing the library to you! Watch for our Pop-Up Library in various places throughout Tuscarawas County. 
Pop-Up Library is a service of your County Library's Mobile Services department which allows us to take the library outside of physical space to create an open-air library where you can check out library materials, ask questions about technology and digital collections, get a library card, sit and read, engage in an activity, or stay and play with featured items.
For more information about Pop-Up Library please, call Mobile Services at 330-364-4474 ext. 250 or email us at mobileservices@tusclibrary.org.